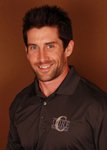 Noah Burton
,
PTA, CSCS, PWR Certification
Owner
Associate of Applied Science
Physical Therapist Assistant

Bachelor of Art
Exercise Physiology
Washburn University, Topeka, KS
Originally from Kansas, Noah moved to Keller, Texas in 2004.  He grew up in a rural community in western Kansas, before pursuing his college education in Topeka, Kansas.  He received an associate and bachelor degree from Washburn University in 2002.  Prior to partnering with Steve and opening Core Rehab, Noah was a clinic manager for 6 years with a large, nationwide Physical Therapy provider.  Since graduating, Noah's continuing education has been strongly dedicated towards orthopedics, manual therapy, and sports medicine.  In November of 2004 he became a Certified Strength and Conditioning Specialist through the National Strength and Conditioning Association.  He has completed a 6 month spine mentorship program in 2005, as well as being a Clinical Instructor for PTA students.  In 2009, Noah was recognized by the American Physical Therapy Association with Advanced Proficiency as a Physical Therapist Assistant specializing in orthopedics.  Noah is also a member of the Texas Physical Therapy Association, American Physical Therapy Association, and National Strength and Conditioning Association.  
When not caring for his patients, Noah enjoys spending time with his wife Jennifer, step daughter Addison, and son Ranger.  Other hobbies include weightlifting, running, mountain biking, golf and any fitness activity.  He has competed in 3 bodybuilding contests, winning his class in one of them, as well as competed in several local 5K's and adventure races.  He also is an outdoorsman where he likes to hunt, fish, and camp.