Reasons To Schedule
Starting physical therapy as soon as your physician writes a prescription for physical therapy is very important to getting back to your normal activities. If the appointment is put off for any reason, many times the condition will become worse. Our therapists will work with busy schedules and restore you to your optimal physical function and mobility.
We will work very close with your physician to start your therapy very promptly and keep him/her informed of your progress. We can accept prescriptions from Medical Doctors (MD,DO), Physician Assistants (PA), Nurse Practitioners (NP), Podiatrists (DPM), and Chiropractors (DC).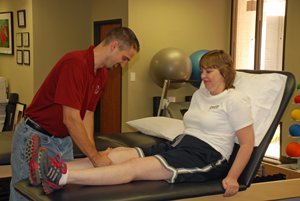 How We Will Help You
Core Rehab takes pride in the high-quality of the services we provide. We are here to deliver the most cost-effective care available. As a courtesy to our patients, we will file your insurance.
We always try to verify coverage prior to treatment. Verification of benefits is not always a guarantee of benefits by the insurance company and any portion that insurance does not cover is ultimately the patient's responsibility.
We also collect co-pays, co-insurance and deductibles upfront at the time services are rendered. Extended payment plans are available when requested.